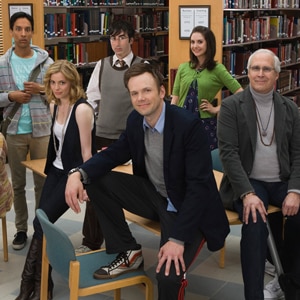 In a great move to publicize their new show 'Community', NBC is allowing people to watch the pilot before it airs. This is not a new strategy, but for a good show it can be very effective. This same idea was used by FOX earlier this year to get the word out on their show 'Glee' which begins this fall. They aired the pilot on TV right after an episode of American Idol and then made the pilot available to download for free from iTunes. The show has already built a following based in the pilot alone. A couple of years ago NBC made the pilot for 'Studio 60 on the Sunset Strip' available for free on inDemand and through Netflix. (Personally I feel that it was a brilliant show with one of the best ensembles on TV that wasn't given a chance to turn into something bigger.) Networks often screen pilots in advance of making it to television by showing them at conventions, or only screening them for the media in hopes of generating good word of mouth. Well that does still work, but that little invention of Al Gore's called the "Internet" moves faster than the speed of a gossiping Disney Cast Member. By inviting people to join them on Facebook in order to gain access to the pilot, they are building a following (or "community") that will hopefully generate the buzz they are looking for. And this show has been making that buzz since the pilot was done shooting.
So what's the show about?
Community focuses on a band of misfits, at the center of which is a fast-talkin' lawyer whose degree has been revoked (Joel McHale, The Soup). They form a study group and, in "Breakfast Club" fashion, end up learning a lot more about themselves than they do about their course work.
Still not sure? Take a look at the clip below and then take the jump over to the
Facebook fan page
to become a fan and then you can watch the entire pilot episode. BUT, this is only for the next 70-ish hours. So pass this on to your friends and let them know on their fan wall that
POParitaville
sent you. :o) You'll get no prize for that, but it'll sure make me giddy. If you like laughing, if you love silliness, or if you're just drunk...you want to see this show.