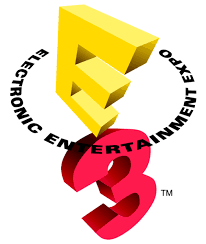 That's right gang, E3..where gaming nerds, developers, booth babes, CEO's and celebrities gather to show what is new in the world of gaming and gaming technology.  Yes, you read that right.  It's about video games and the eyes of the entertainment world are staring.  It is during this week that game developers stand on a stage in a huge theater, playing a video game with thousands looking and they are rock stars.  If you're wondering why, well you haven't been paying attention.  Ever since the world was invaded by the Sony Playstation and Microsoft's XBOX, video games have surpassed movies in money making.  And not by a little either.  Oh no.  The release of Halo 3 become the largest single day release of any type of entertainment grossing $170 million in the first 24 hours.  

With that said... here's some of my favorite news of the day:
This game is not news at all.  We've known about it for a while now.  But today we got to see it used and found out a little bit more.  Not only will you get the songs available with the game, but the entire Beatles catalog will be available to download starting with Abby Road.  The graphics on this look amazing.  They were able to capture the look and feeling of the not only the decades, but the music as well.  And another great aspect is that when you exclusively download the song 'All You Need Is Love' on XBOX Live, all the proceeds go to support Doctor's Without Borders.  When it is released on 09-09-09 I believe that it will be the must have game of the holidays.  Take a look at the trailer:

This is a very cool looking system.  Microsoft, as expected, has taken a lesson from Nintendo and created a skateboard controller.  You stand on it and then take off down the street attempting some of the same tricks that have made Tony Hawk a superstar.  Having helped develop and design the board, it's a little smaller than a real board, but large enough that you will have a double take.

Halo:ODST
and
Halo:Rising
What more is there to say?  It's Halo.  Get in line right now.

This is more than a game, it's a horror thriller in every sense of the word.  You are Alan Wake, a novelist who's fiance goes missing and Alan tries to piece everything together while staying alive in a nightmare of a town.  Take a look:

Last.FM
,
Facebook
and
Twitter
These services are all coming exclusively to XBOX Live.  Last.FM will let you now stream music through your 360.  And by adding Facebook and Twitter with an XBOX only interface, it will allow you to see your profile as never before and be able to share your gaming profile with your friends.

Ubisoft is creating the video game based on the upcoming James Cameron movie.  Here is the great thing about this game.  It will be the first full 3D video game released.  They worked hand in hand with James in creating the game while he's been working on the movie.  As he said in his speech, he spent so much time working on this movie that he didn't want anything associated with it to suck, especially a video game.  James talked at length at the Ubisoft presentation not only about the game, but the movie as well.  For those that have never heard Jim speak, he is very descriptive and passionate.  So this is a lengthy speech, but well worth listening to if you have 15 minutes.  This is some of the most insight that we've been given into his movie since he went into production 4 years ago.  This felt more like a studio pitch and I loved listening to him talk about both the movie and the game.
Star Wars: The Old Republic
FINALLY, a Star Wars MMO that delivers on every level.  Wow.  I mean, holy s***!  Be a Jedi, be a Bounty Hunter, choose the Dark Side.  Whichever way you go, this looks to be the online Star Wars game we've been jonesing for.  When you watch this if you do not totally geek out and want to re watch it over and over...well, you need to go to hell.  Yeah, I said it.  

And the big news of the day...
Microsoft 'Project Natal'
Ever since the release of the Nintendo Wii, both Microsoft and Sony keep getting the question, "When are you going to have a motion controller like the Wii?"  Both have kept pretty mum while also knowing that it's what people wanted.  Well today Microsoft stepped up and not only knocked it out a lot further than anyone expected.  But it's so far out that one has to wonder if this is the beginning of Skynet and the machines taking over.

Project Natal is a separate box that plugs into your XBOX 360 that has has a microphone and camera..but no controller.  "What," you say?  That's because you are the controller.  That's right kids, you are the controller.  Take a look at the live demo they did on stage today:
Now this has so much freakn potential and is far beyond a controller and wand.  But that's not the part that is freaky, cool and way more advance than rumored.  What am I talking about?  Meet Milo...
Yeah. This is real. For the doubters that were there today, they are doing live demos where they can 
meet Milo at E3. Uhhh... people...there is a movie out right now that kinda tells us that this is a bad idea.
Take the jump over the G4TV.com for more information about Project Natal.
That's it for my high lights from today. Tomorrow I'll give the high lights from Sony and Nintendo 
announcements. What say you? Was there anything from today that was a high point for you? Was
there something you were hoping to see? Is there something that you're hoping to hear about tomorrow?
Leave a comment and let us know.
News and Reviews POPped by Jungle Jesse