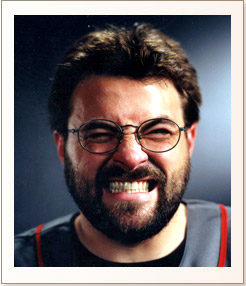 You do!  Right?  Of course you do.  Well you now have a couple of opportunities.  Ebay is currently accepting bids for The Adrienne Shelly Foundation auction.  Kevin Smith has put up to auction a couple of  items.  One is a walk on role in his new movie
'A Couple of Dicks'
starring Bruce Willis and Tracy Morgan.  The other is an opportunity to have lunch with Mr. Smith.  Now, my little minions, before you start going crazy with the bids there are some rules that you must abide by in order to bid:  
This two person package does not include any travel or accommodations. The winning bidder and guest are responsible for arriving at the agreed upon destination for the lunch at the agreed upon date and time. The participants must be 18 years old unless accompanied by an adult. At the lunch the winner will be allowed a personal photo with Kevin and bring one item for him to sign. Lunch will be paid for by The Adrienne Shelly Foundation and will last up to an hour and a half. All bidders must be 18 years of age and be able to pass a background check. If the winner or guest fails the background check, they forfeit the prize. Please bid accordingly. 
There are many other items/opportunities up for auction as well.  Everything from Jimmy Buffet tickets with backstage passes (SWEET!) to lunch with David Schwimmer (meh..).  Take the jump over to
Ebay
to see the items up for auction and place your bids. 
What is The Adrienne Shelly Foundation?
The Adrienne Shelly Foundation supports the artistic achievements of female actors, writers and directors through a series of scholarships and grants, providing recipients with financial support and consultative access to the Foundation's advisory board of actors, directors, producers, composers, law, publicity, academic and trade professionals. Reflecting Adrienne's spirit, generosity, courage and whimsy, our goal is to recognize the tremendous passion and commitment of women artists in creating their own work, and provide them with support and guidance particularly during periods of transition and struggle.