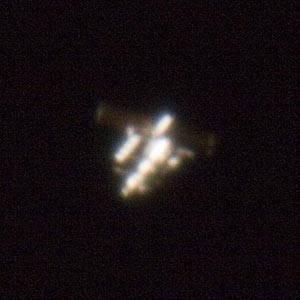 So, NASA had a contest to name Node 3 of the International Space Station. According to it's website, "The name should reflect the spirit of exploration and cooperation embodied by the space station, and follow in the tradition set by Node 1- Unity- and Node 2- Harmony."
NASA posted 4 options for the public to vote on (Earthrise, Legacy, Serenity, and Venture), plus allowed for the public to write-in a choice.
Well, after all the nearly 1.2 million votes were counted, a clear winner was chosen. With 230,539 votes, the winner is....Colbert. Yes, THAT, Colbert. Stephen Colbert urged viewers of
The Colbert Report
to write-in his name, and his viewers came through, beating out Serenity by more than 40,000 votes (with apologies to Joss Whedon).
NASA has final say over the actual name (which seems to me to negate the purpose of a naming contest; but whatever. This is the same
private
agency that has a .gov web address...), which they plan to announce in April. The Space Shuttle
Endeavour
will deliver Node 3 and its components during STS-130, targeted in February of 2010.
Read the NASA details here:
http://www.nasa.gov/externalflash/name_ISS/index.html
posted by TheEdley