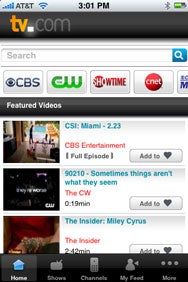 Alright, get your phones ready.  A couple of great apps have been launched.  First up is the
TV.com app from CBS,
 for the iPhone/iPod Touch.  This will give users the chance to watch content from CBS, Showtime and The CW.  The drawback is that the layout isn't that great and some of the content is only short clips, not full episodes.  However you can watch full episodes of the original Star Trek and C.S.I. 
For the comic nerd that owns the G1 from T-Mobile comes the iVerse app.  This app was first made available for the iPhone back in November but has now also made itself available for the Android operating system.  This will hopefully be a new medium for comics to be read, and to help indie comics get seen by more eyes.  iVerse is currently seeking submissions for new digital comics.  Head
here for the submission rules,
 and here for the apps to both
the G1
(becomes available later this week with a free copy of Hexed)
and
iPhone/iPod Touch
.