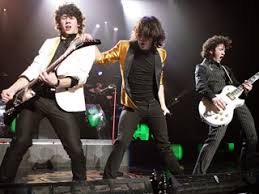 Since 1995 L.A. station 97.1, KLSX, decided to be a rebel. The ditched their classic rock format and became the only FM talk station.  It definitely had some bumps in the 

beginning (Kato Kaylin had a show), but they began to find their audience as they brought in different talent. Much of it had to do with the then lead in morning program which was ratings god Howard Stern.  They added some shows that became very popular (Frosty, Heidi and Frank; Tom Leykis) and had a very rabid fan base.  Especially Frosty, Heidi and Frank.  Once their show started streaming online and became available via podcast, people tuned in from all over the world.  They were one of the only shows that I can think of, where they were allowed to continually drink alcohol on the air and would encourage their audience to do the same.  It was like you were having drinks with your friends.  And that was the reason that their fan base is so loyal.  They truly treated their fans like they were a part of the show.  How many other shows can you think of that would take over working behind a bar (for something that was not broadcast), invite their fans down just to say hi and serve them drinks.  And not just as a one off. They did this a few times all over the southland. 

Well, they may now have to see about getting an actual job at those bars.  CBS radio announced this week that as of today at 5:00PM, KLSX will now be known as 'AMP Radio playing all of today's hits.'  As of right now, they are doing a live webcast of their last show on the station web site while getting trashed as well.  Take the jump to see the fun. 
 http://www.971freefm.com